Are you looking for a delicious and versatile grain to add to your cooking repertoire? Look no further than Bomba rice! This special type of short-grain white rice is the perfect ingredient for making paellas, creamy risottos, soups, poke bowls, and more!
Jump to:
What is Bomba Rice?
Authentic bomba rice, also known as Valencia rice, is a type of short-grain rice that originates from the Valencian region of Spain. It grows very slowly, and the result is an exceptionally dehydrated grain, which makes it great for absorbing liquid while cooking.
Because of this, it gets its name from the Spanish word "bombeo" which means "to pump": when cooked, the grains absorb more water than other types of rice, allowing them to expand and become fluffy yet still maintain their shape.
It can absorb two or three times its volume in liquid, and, it expands in widths, compared to other long or short grains, which usually expand in length - making a huge difference! You could say it is a rice prized for its starchy and absorbent center!
This makes it ideal for paella and other dishes that require perfectly cooked grains of rice. It also has a slightly nutty flavor which adds an extra layer of depth to your recipes. 
Bomba Rice Vs Arborio
Let's take a look at two particular types of rice - Bomba and Arborio - and compare their flavor, cooked consistency, and best uses.
Bomba Rice
This Spanish short-grain variety is one of the most popular rice used in paella.
The grains are rounder and plumper than other varieties and absorb more liquid than other types of long-grain or medium-grain rice.
It also has an amazing ability to retain its texture and shape even after being cooked for a long time in lots of liquid!
As far as flavor goes, Valencia rice has a nutty taste that really stands out when compared to other types of rice. 
Italian Arborio Rice
This Italian variety is another type of short-grain white rice but it has much wider grains than Bomba.
When cooked, the grains become creamy on the inside while still retaining their shape on the outside - which makes it great for risotto!
In terms of taste, Italian Arborio rice has a mild flavor with subtle hints of sweetness that pairs very well with savory sauces or seasonings.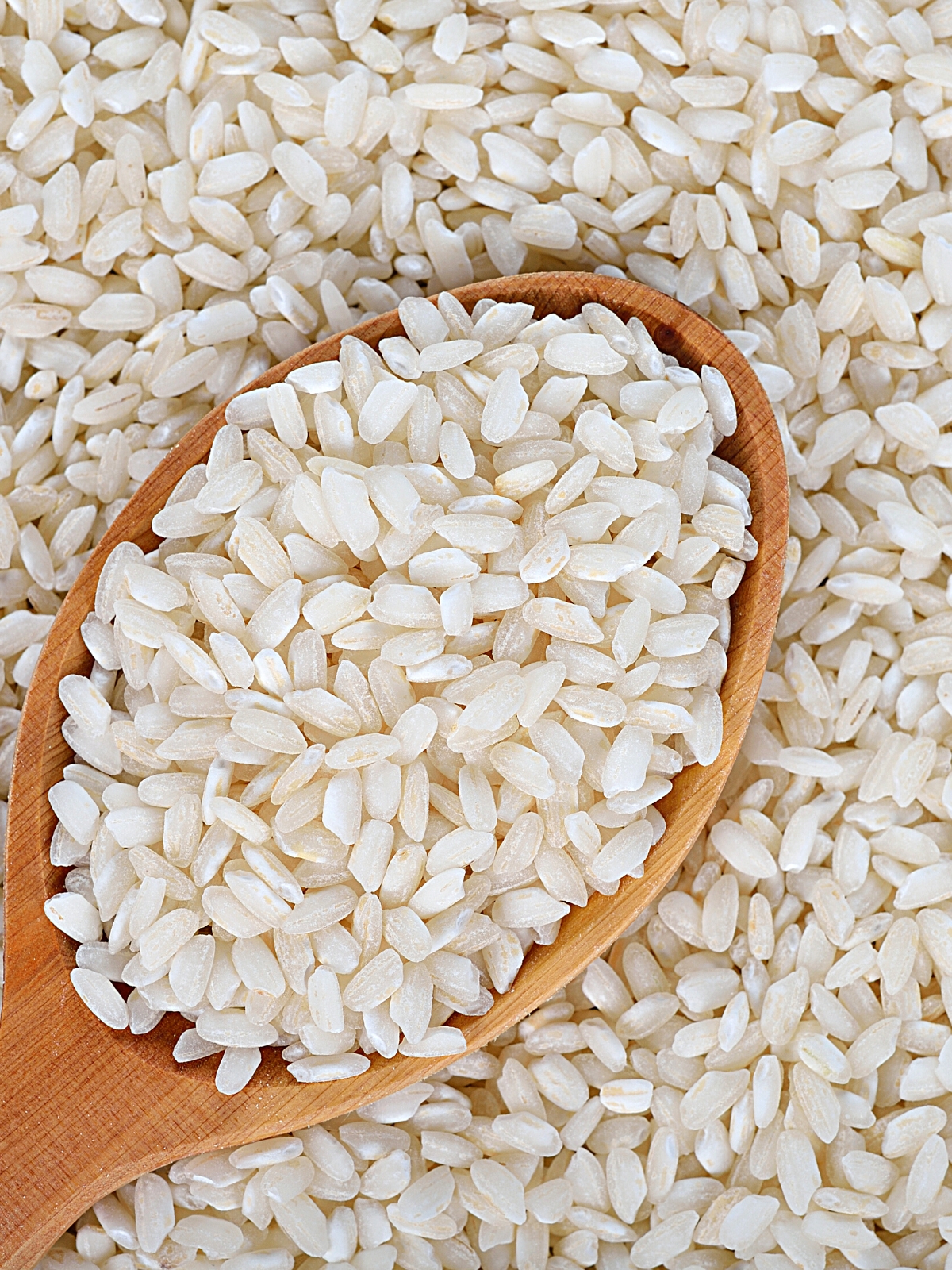 What is Bomba Rice Used For?
Bomba rice has a high starch content, which makes it ideal for absorbing liquids during cooking. The grains are plump and round, so they won't break apart easily when cooked. Here's a list of bomba rice uses for you to use as inspiration!
1. Paellas
The most famous recipe using Valencia rice is paella, which is a traditional Spanish dish made with chicken, seafood, vegetables, and saffron-infused broth. It is often referred to as paella rice, so this is a must-try recipe for a rice aficionado!
To make paella with Bomba rice, fry the ingredients in a large pan until golden brown before adding the rice and broth.
Cover the paella pan tightly with aluminum foil and simmer on low heat until all the liquid has been absorbed by the grains, cooking paella without stirring.
Once done, remove from heat and let sit for five minutes before serving.
2. Rice Soup
Another great way to use Bomba rice is in soup! As it works great will many types of vegetables, the soups can be easily adapted to the seasons.
Start by sauteing garlic, onions, carrots, celery, zucchini, mushrooms, or other vegetables in olive oil until softened.
Add your preferred broth or stock along with salt and pepper to taste before bringing everything up to a boil over medium heat.
Once boiling, add in your pre-cooked Bomba rice and simmer for about 10 minutes until heated through before serving!
3. Creamy Rice or Risotto
If you want to make something really decadent using this special type of grain, then try out this creamy bomba risotto recipe... if you love rice, you must love risotto!
In a large pot melt some butter over medium heat before adding chopped onions or shallots.
Sauté until beginning to soften then add your rice along with white wine if desired.
Stir constantly while gradually pouring in warm vegetable stock until all the liquid has been absorbed by the grains stirring often so it doesn't stick to the bottom of the pot.
When done, stir in grated parmesan cheese and fresh herbs like parsley or basil for extra flavor before serving hot! 
4. Poke Bowls
Poke bowls are all about bright flavors combined together into one dish - making them an ideal way to showcase this incredible grain!
Start by preparing your poke bowl ingredients such as cooked shrimp or salmon cubes as well as diced mangoes or avocadoes - plus anything else you'd like included!
In a separate bowl mix together cooked bomba rice along with tamari sauce (or soy sauce), sesame oil, honey, garlic powder, and chili flakes if desired - tossing everything together until evenly combined before adding your prepared poke ingredients on top!
Serve the finished dish immediately while still warm for best results!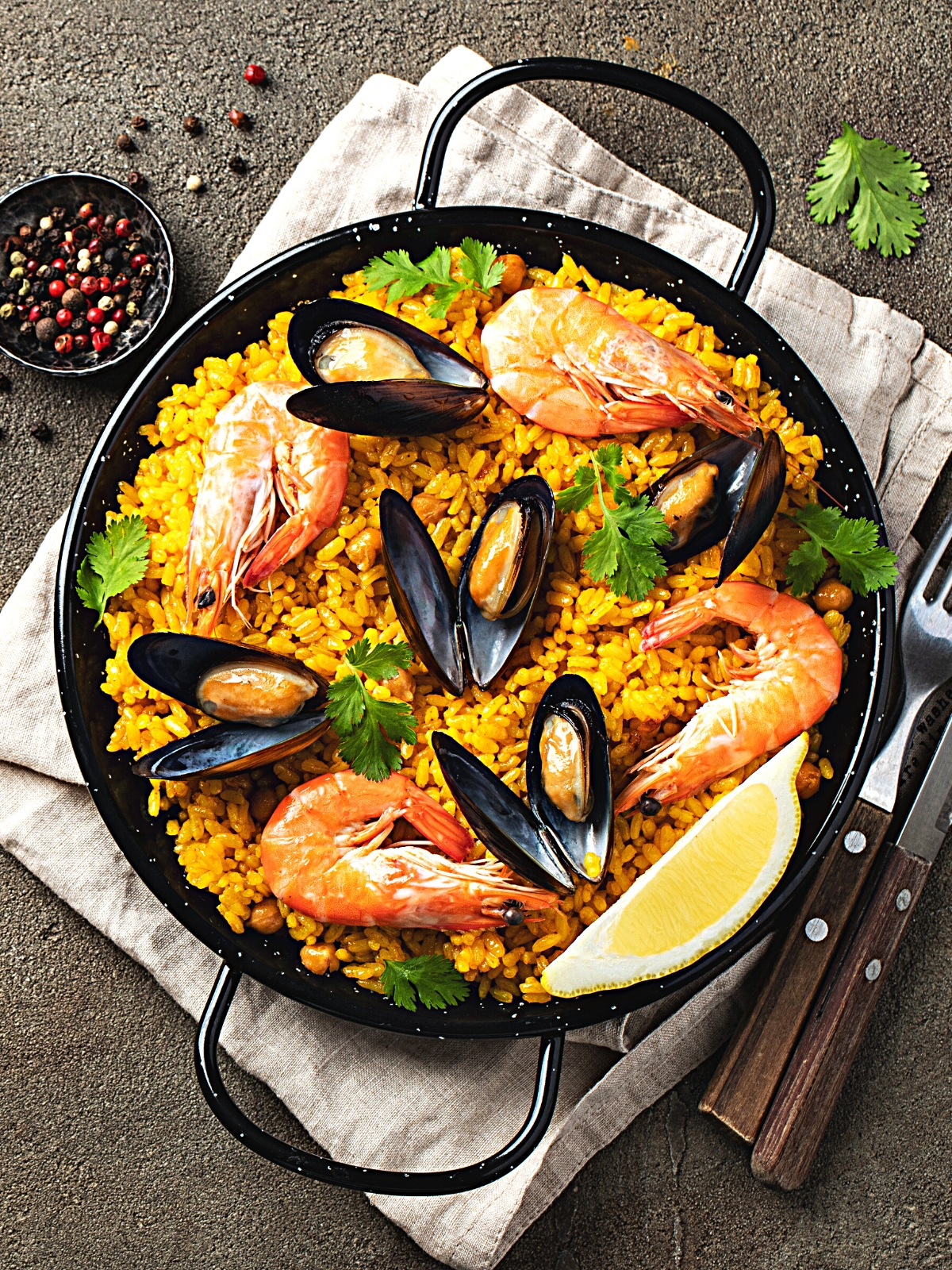 People Also Ask [FAQs]
What is the Bomba Rice to Water Ratio?
The ideal ratio for Bomba rice is 2 ½ cups of water per cup of uncooked rice. The water to rice ratio is extremely important to avoid soupy or mushy paella.
Is Bomba Rice Gluten Free?
Yes, this type of rice is gluten-free, as it does not contain any wheat or wheat derivatives.
How Much Does it Cost?
Bomba Rice is typically priced around $4-$5 per pound which makes it an affordable staple ingredient for any kitchen.
Wrap-Up: Bomba Rice
Valencia rice is a special type of short-grain white rice that has plump and round grains.
It's particularly good at absorbing liquids during cooking which makes it great for making paella, soups, creamy risottos, or even poke bowls.
This special paella rice is different from Arborio rice, which has a creamy center while still maintaining its shape, and Asian rice, which tends to be sticky.
Its nutty flavor also adds an extra layer of depth to any dish you make with this unique grain.
Don't forget to leave a comment below if you give it a go - we'd love to hear what you think of this traditional Spanish dish!
🍽️ Recipe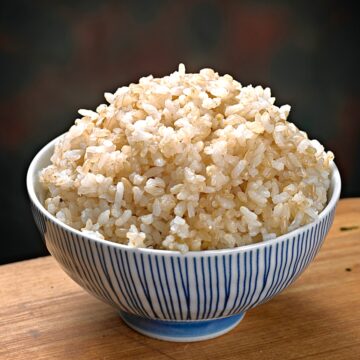 How To Cook Bomba Rice
Cooking Bomba rice can be intimidating if you've never done it before. After all, this Spanish short-grain rice is considered one of the world's best types of rice, so you want to get it right! Luckily, I'm here to show you how easy it is to cook Bomba rice on the stovetop or in a rice cooker. Keep reading for step-by-step instructions on two foolproof methods.
Ingredients
1

cup

bomba rice

2 ½

cups

water

1

teaspoon

salt

optional

1

teaspoon

olive oil

optional
Instructions
How To Cook Bomba Rice on the Stovetop
Start by rinsing and draining your Bomba rice in cold water until the water runs clear. This removes any dirt or dust from the grains and helps them cook evenly.

Put your drained Bomba rice into a pot with 2 ½ cups of water for every cup of uncooked rice. You can add salt and olive oil for flavor if desired.

Bring the pot to a boil over high heat, then reduce the heat to low and cover with a lid for 15 minutes or until all liquid has been absorbed by the grains, stirring occasionally if necessary.

Once all liquid has been absorbed, turn off the heat and remove the pot from your cooking surface to let it rest for 5 minutes before serving. This allows all remaining moisture to be completely absorbed and yields perfect fluffy grains each time!
How To Cook Bomba Rice in a Rice Cooker
Begin by washing your Bomba rice as described above—rinse and drain until water runs clear—before transferring it into your clean rice cooker bowl with 2 ½ cups of water per cup of uncooked grain (and salt and olive oil if desired).

Close the lid securely before pressing "cook" on your machine; some models will require that you press "white/short grain" instead as well depending on their settings menu options.

Let your Bomba cook inside the machine until finished—usually about 20 minutes—before fluffing with a fork when ready to serve!
Notes
Don't stir the pot while cooking as this will break up the grains and make them mushy instead of fluffy.
Nutrition